What Rights Do Family Members Have?
When a resident moves into a long-term care facility, the family should take an active role in advocating for their loved one, ensuring the highest quality of life for them. In recent years, the focus of long-term care has changed from the medical model to a person-centered philosophy of care. This means that the resident is the primary decision maker and what they want as far as care is the staff's primary concern. As long as a resident is competent, the staff must abide by their wishes. Sometimes family members may not agree with the wishes of their loved one, but the staff must honor them.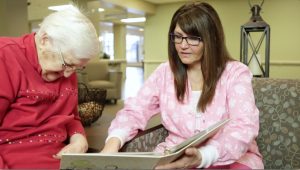 With the resident's permission, family members have rights they can exercise that can help them advocate for their loved one. The family has a right to take part in the initial assessment of the resident. This assessment is done within the first 14 days of a resident's admission and plays a vital role shaping the course of the resident's care. The family member's knowledge of the resident's history, likes, and dislikes can prove to be an invaluable source of information. Within seven days of the initial assessment, the home should set up a care plan meeting. This is a meeting where all the department heads involved in the resident's care come together and map out a plan of care for the resident. Family members, with the resident's permission, have the right to attend these meetings. This is a time where families can get updates on the resident's condition and voice any concerns. The care plan meetings are scheduled every three months or whenever there is a significant change in the resident's condition.
Notification — Family members have a right to be notified within 24 hours of any change in a resident's condition. This includes any accident/injury, change in medical/mental status, the need to change treatment, any transfer or discharge and the reason, any room/roommate change, or any change in resident rights.
Family Councils — Family members are allowed to meet with other family members in an area provided by the facility. Staff do not have to be present, but the facility must designate a staff person who is responsible for acting on grievances and/or recommendations made by the family council.
Resident's Inventory List — This is a list that is put together upon the resident's admission which accounts for all their possessions. Family have access to this so they can keep the list updated as they bring items in or take them home.
Visiting — With the resident's permission, a family member has immediate and unlimited access to their loved one.
These are rights that all families have. If for some reason you have not been allowed to exercise your rights, talk to the staff. In most cases a little staff education goes a long way in seeing that families get their rights honored. If you have a Life Care Plan, talk to your Elder Care Coordinator and they can advocate for you if your rights are not being honored.