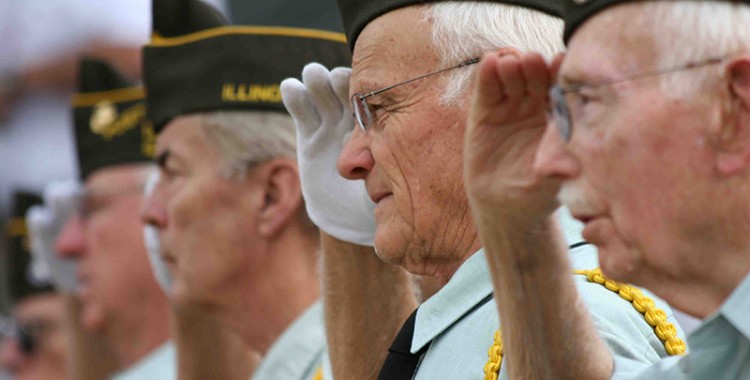 Veterans Benefits
These days, many US veterans qualify for some form of Veterans benefits. Some believe they are only entitled to benefits if they have been wounded or disabled while serving but there are also pension benefits that exist for non-injured wartime veterans, including the Aid and Attendance Pension.
Many vets battle chronic conditions and struggle to pay for their care. VA pension benefits are one of many tools that the Weeks Group can give you access to when planning for your long-term care.
While you may struggle to provide dignified long-term care for a wartime veteran or surviving spouse, the Weeks Group can help you understand available options and instruct you on how to access benefits available to veterans.
An Aging Veteran's Scenario
Joe is a 80 year old who had been living with his son and his son's family.  Joe suffers from moderate dementia and some physical limitations that restrict his mobility. The house where Joe was living was not easy for him to get around in and he sometimes butted heads with his granddaughter. Joe has very limited resources—assets of about $25,000 and monthly income from social security and a pension of around $1,200. After evaluating Joe, it was very apparent that besides suffering from Parkinson's he was also dealing with depression, possibly as a result of his lack of social interaction during the day, while his son and wife were at work.
As you can see, this situation presents a true dilemma: How to get help for Joe when he really cannot afford to bring care into the home during the day, and facilities can be quite expensive. We determined that Joe served in Korea and met other requirements for a VA special pension—in this case Aid & Attendance. When the monthly benefit of $1,759 was added to his current income of $1,200, assisted living became a possibility. (We were also able to secure some funding from Medicaid as well). As soon as Joe was taken around to look at assisted living facilities, his outlook on life began to improve. Joe found a room that he liked in a facility and moved in. His total income from all sources provides enough to pay his rent and have some money left over to pay for other expenses. Joe's life is much happier now, he is well socialized with other residents and he doesn't feel like he is a burden to his son and daughter-in-law. This simply wouldn't have been possible without the VA pension.
What is Aid & Attendance?
Aid and Attendance is a "special monthly pension" available to wartime veterans and their surviving spouses. To qualify under 'service' rules, a veteran must have served at least 90 days of active military duty, at least one of those days had to be during wartime (as defined by the Veteran's Administration) and must have received a discharge classified as anything other than dishonorable. The veteran or surviving spouse must then demonstrate a permanent or total disability or be over 65 to fully qualify for benefits.
For veterans under the age of 65, permanent and total disability includes: a veteran who is in a nursing home; rated as disabled by the Social Security Administration; unemployable and reasonably certain to continue so throughout life; or suffering from a disability that makes it impossible for the average person to stay gainfully employed.
Asset & Income Requirements
To fully qualify for VA pension benefits, including Aid and Attendance, a veteran must meet the associated financial eligibility requirements. The current rule of thumb (although the VA rules are quite murky and there is no "magic number" for assets) is that a married veteran and spouse can have no more than $80,000 in countable assets ($40,000 for a single veteran or surviving spouse). Those amounts include bank accounts, savings bonds, stocks, farm/lake property, and retirement assets but exclude a home and a vehicle. VA caseworkers often consider other factors such as age/life expectancy, income and medical expenses when determining whether the veteran or surviving spouse is entitled to pension benefits. The vagueness of the VA rules underscores the necessity of getting expert advice to determine if a loved one could qualify for VA benefits, and if not, what they need to do to ultimately qualify.
When determining gross income limits VA caseworkers measure eligibility with an IVAP (Income For VA Purposes) figure. IVAP is equal to a claimant's gross income from all sources less countable medical expenses. Some of the items that would be considered medical expenses include the costs of in-home care, assisted living, or skilled care expenses. If a claimant's IVAP is equal to or greater than the annual benefit amount, the veteran or surviving spouse is not eligible for benefits. Click here for a list of possible medical expenses.
How much disability is required to receive the Aid and Attendance Pension?
The claimant's physician must provide medical evidence that he or she requires the "aid and attendance" of another person to perform the basic activities of daily living. This could include help with prescriptions, bathing, or constant supervision. Additionally, if the claimant resides in a facility, then the facility must also provide a letter stating that the individual resides in the facility because of the need for assistance with the activities of daily living.
How much money is available ?
The quantity is dependent on several factors, including if the veteran or their surviving spouse is applying for benefits, and the health of the veteran/spouse at the time of application.
If the veteran is in need of "aid and attendance," they can receive a monthly pension of up to $1,759 if they are single, and $2,085 if they are married.
If the surviving spouse of a veteran is applying for benefits, they can receive up to a maximum of $1,149 each month.
If the veteran is applying, but his/her spouse is the person who needs care, then the maximum benefit can be up to $1,380 per month.
Finally, in the case where two veterans are married to each other, and both need care they could jointly qualify for up to a maximum benefit of $2,790 per month.
The Application Process
The VA pension application asks for substantial supporting documentation: marriage certificates (of current and prior marriages), proof of financial status, military discharge papers, divorce decrees & (spouses) death certificates from prior marriages. Once the application is completed and filed with the VA, the review process takes six to nine months to complete. Once approved, benefits are retroactive to the month after the application is submitted. To expedite your approval, it is very important to have all papers together at the time of application in a "ready to rate" format.
Who Can Help With an Application?
When submitting a VA application, you should note that it is illegal for anyone to charge a fee for filling out or assisting to file an application.
Before taking action on any specific course, consider that you should seek guidance in the following areas:
Care options available for the veteran and/or spouse
A review of VA, Medicaid and Medicare and how each may apply to your circumstances
Specific documents including powers of attorney for property and healthcare matters, wills and trusts
A plan for the best use of your personal, financial, and family resources
Analysis of tax consequences for income, capital gains, estate and/or gift taxes
An analysis of which planning options best fit your circumstances
A calculation of the actual dollar benefit and/or cost of any idea that is discussed
What options are available if it is anticipated that a home may be sold in the future?
An analysis of what effect actions taken to qualify for VA benefits may have on future eligibility if you need to qualify for Medicaid!
The Weeks Group can help inform your decision to file for VA benefits. We specialize in providing counsel and support to veterans and their surviving spouses. Contact Mike Weeks if you feel like you or your loved ones would benefit from our VA benefits counseling services.