Holiday Visits in Long-Term Care Facilities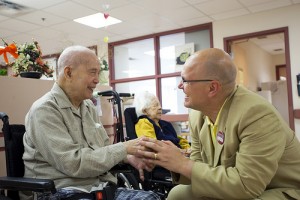 Holidays are busy times of year for everyone. Here are a few tips to help you get the most out of your visit to see a loved one in a long-term care facility.
Residents tire easily, so schedule your visits at times when they will be able to enjoy your visit.  Don't feel like you need to shower them with gifts, as most residents really don't need or want much.   If they are physically able to leave, take them out of the facility.   Allow them to shop for themselves if they would like to do so.  Go out to dinner or to a relative's home for a visit.  Bring the grandkids, great grandchildren.   Seniors love visiting with children.   If the senior had a pet, bring the pet for a visit.   If the resident cannot leave the facility, many facilities have family dining rooms which you can reserve. Bring the celebration to them!
Keep family traditions alive, and make the resident part of past traditions.  If the resident has difficulty participating in traditions modify them so they can be a part.
Definitely spend time talking to the resident and letting them know how much they mean to you. You never know how much time you will have with them so make sure you share those things that are really important.
Be respectful of this time of year. Many people get more depressed over the holidays. Be aware of your loved ones feelings and do what you can to comfort those who are not feeling well.  Not all residents can tolerate a large group of people so you may need to downsize your group to accommodate their needs.
Beware of using your time to complain about the facility and how "unhappy" you are with them. You want this to be a memorable and happy  time for the resident.  Unless you have concerns of a serious nature you can discuss your concerns at a later time.
When visiting with your loved one over the holidays there are a few things to keep in mind.  Parents are interested in visiting with you- not getting in arguments over petty things.  If siblings are visiting at the same time make sure they keep their differences aside.  Over the years I have had countless seniors tell me "I just wish my kids would get along".  our loved one needs that time and they need it to be productive.
Know that there are many residents in long-term care facilities who have no visitors. So, as you are visiting with your loved one take a few minutes to bring a little joy to one less fortunate than you.
Don't forget to let the staff know how much you appreciate the care they are giving to your loved one. Staff are often overworked and under-appreciated.  A few kind words can go a long way in assuring your loved one will be well cared for.   Having a staff member really engaged and caring about your specific family member is an easy way to help make sure that when their call light goes on, it gets a little faster attention.
A wise person once said "seniors need so little but they need that little so much".  They don't need a lot of stuff to make them happy but they do need their family!